Meet our 2020-21 Fellows.
21 D.C. area leaders in professional and education management were selected to join the 2nd annual tiltForward Fellowship in Washington, D.C. oneTILT's tiltForward Fellowship is a 8-month learning experience that cultivates more diverse and inclusive leaders.
The fellowship provides programming and tools for leadership centered around race and race issues, one-on-one executive coaching, and ongoing support beyond the fellowship.
21 D.C. area leaders in professional and education management were selected to join the 2nd annual tiltForward Fellowship in Washington, D.C. oneTILT's tiltForward Fellowship is a 8-month learning experience that cultivates more diverse and inclusive leaders.
The fellowship provides programming and tools for leadership centered around race and race issues, one-on-one executive coaching, and ongoing support beyond the fellowship.
Veronica Alvarado
Veronica Alvarado
Veronica Alvarado (she/her/hers) is a first-generation Latina born and raised in the DMV area. She has worked in education for the past 7 years and began her career as a 3rd grade teacher in Miami-Dade County Public Schools. She currently serves as the Manager of Teacher Recruitment and Pipelines at DC Public Schools where she oversees a multifaceted, national teacher recruitment strategy as well as university and alternate route pipelines. She holds a master's degree in Education Policy and Leadership from American University and is a proud alumnus of the University of Virginia. She is driven by her commitment to ensuring that all students have excellent, diverse, and equity-minded educators in their classrooms. Outside of work, Veronica enjoys spending time with her friends and family (especially the four-legged ones), working out, and travelling.
Charity Blackwell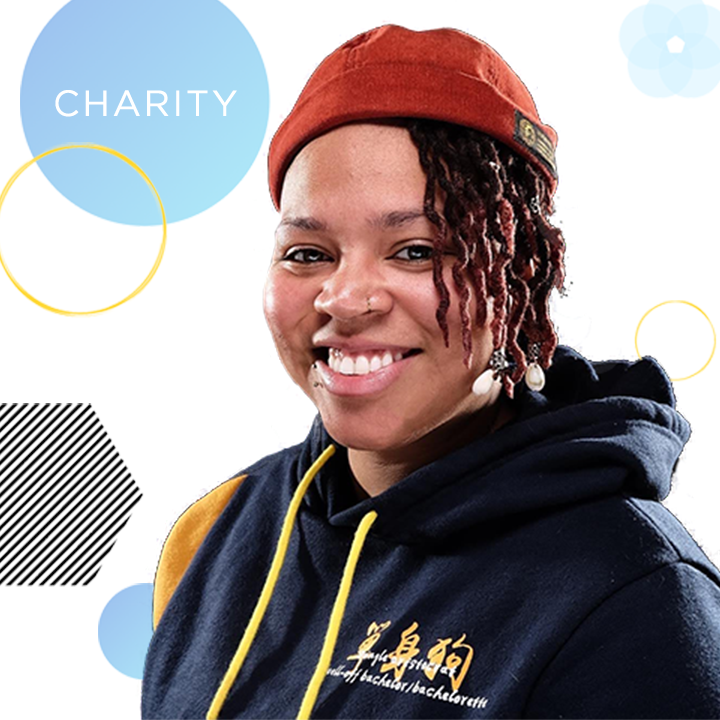 Charity Blackwell
Charity Blackwell is a spoken word artist, host, emcee, and poetry specialist who has spent several years contributing to the arts and soccer scene at DC SCORES. She is a Trinity University graduate, where she received her B.A and M.A, for Communications, and played soccer for four years. Since her early college days, Charity's natural stage presence and charm has led her to many hosting opportunities, including events such as the local and national Poetry SLAMS for DC SCORES. She has performed her original work on international networks such as BBC News, DC United Audi Field for the game opener, the Woman's Sports Foundation, The Lincoln Theater, The Kennedy Center, The Hirshorn Museum, Dock 5, TedxTysons, Women's World Cup Volkswagen commercial and numerous stages across Washington D.C. and the east coast.
Christina Cancelli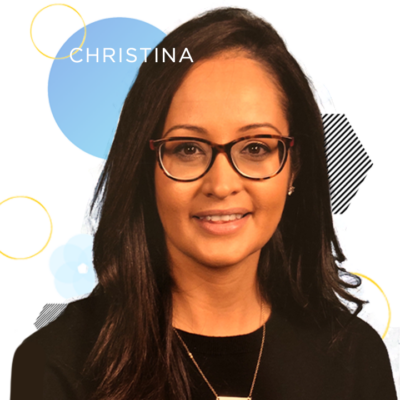 Christina Cancelli
Christina Cancelli has been in education for over a decade, ranging from military, urban, and suburban settings, both public and charter. She is a first generation college student with a winding road from a community college to an ivy league school. Her own experiences and identity inform how she walks in her work and the work she does with students and staff to build strong content and culture. Ms. Cancelli has been at DC International School for 5 school years and is currently DCI's high school assistant principal. She looks forward to expanding her educational network as a oneTILT Fellow.
Dr. Jacqueline Fernandez-Romero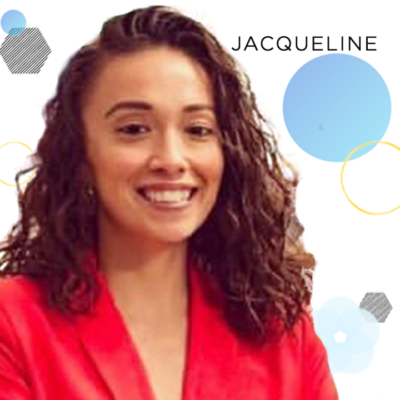 Dr. Jacqueline Fernandez-Romero
Dr. Fernandez-Romero has devoted approximately 10 years of her academic life to the intellectual enhancement and mentoring of all students in STEM with a focus on underrepresented groups from K-12 and opportunity youth. Dr. Fernandez-Romero philosophy is transforming lives through academia. The foundation of her teaching/mentoring philosophy derives from Paulo Freire, Pedagogy of the Oppressed which is centered on the idea that education is freedom. Dr. Fernandez-Romero has always been passionate about education in particular empowering students regardless of ethnicity, class, and social economic status or social capital to liberate themselves from the very same oppressive barriers she faced. Dr. Fernandez-Romero teaching/mentoring philosophy tends to change as does her teaching approach because she believes every student is unique and learns differently. Dr. Fernandez-Romero is currently the Principal at LAYC Career Academy PCS.
Katie Heimsath
Katie Heimsath
Katie Heimsath (she/her/hers) is the Director of Preschool Programs at the Smithsonian Early Enrichment Center in Washington, D.C. She is a former early childhood educator, having taught Preschool for the last 10 years in DC, Chicago, and in her home state of Texas. Katie's work now focuses on the community of educators, children, and families at her school as they work together to educate curious, empathetic, and brave young members of the world. Outside of work, Katie enjoys spending time with her husband, daughter, and their dog Soup. Katie loves movies and audio books, camping and being outdoors, and connecting with folx over a good meal.
Joshua Johnson
Joshua Johnson
Joshua Johnson (he/him) grew up in Western New York and has called DC home for the past ten years. He started his education career with Teach for America and taught science at Center City Public Charter Schools for five years. Joshua spent the past five years in the educational technology sector creating science-based video game curricula and coaching teachers around the country in computer science instructional best practices. Joshua recently returned to Center City PCS and serves as the Curriculum and Instruction Specialist for K-8 Science for the network. He is a proud graduate of St. Lawrence University, where he studied chemistry. He earned his Master's in Teaching from American University. He is passionate about sharing his love for STEM with students in DC and around the country, by creating educational spaces where students feel affirmed, recognized, and joyful. When Joshua isn't working you can find him reading, indoor cycling, or enjoying DC restaurants with friends.
K.B. Kim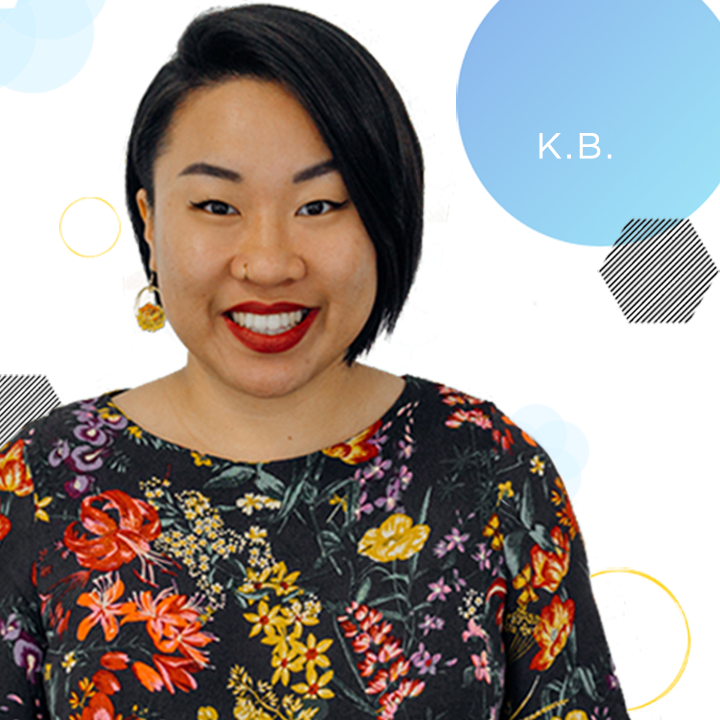 K.B. Kim
K.B. grew up in L.A. County, studied sociology, and moved to Washington, D.C. five years ago to challenge herself and experience the novelties of the East Coast! K.B. started her career as a development professional at an AAPI racial justice nonprofit, where she had the life-changing opportunity to not only work with powerful AAPI leaders, but also serve her own community through naturalization clinics, voting rights advocacy, and language access. K.B. transitioned to an education equity nonprofit, where alongside some of the most dedicated and passionate colleagues, she learned the value of service, and how a champion can deeply change the trajectory of one's educational path. K.B. currently works at 50CAN as the people and operations manager. In her non-working hours, she facilitates social justice dialogue examining systemic power in race, gender, and sexual orientation with Femex; catches up on reading for her WOC Book Club, and daydreams about adopting a dog and eating tacos by the beach. K.B. is a proud queer, immigrant, Asian-American/woman of color and is excited to bring those identities and experiences to the tiltForward cohort!
Jim Kline
Jim Kline
Jim Kline (he/him/his) is the Director of Incubation at CityBridge Education, where he works to support education entrepreneurs and leaders design school models and programs for equity. Prior to his work in DC, Jim spent some time working in Philadelphia leading school investment grants for an education non-profit. Jim taught middle and high school for nearly a decade in New Orleans, and has a deep passion for teaching and learning (especially PBL). As a first-generation college student, Jim graduated from Rutgers University in New Jersey with a BA in Political Science. Jim was the first LGBTQ president of the student body and fell in love with activism on his college campus. He later attended Teachers College – Columbia University for his MA in Educational Leadership. At his core, Jim is an aspiring anti-racist leader and educator and spends his time outside of work with his fiance, friends and his little frenchy.
Leyla Mocan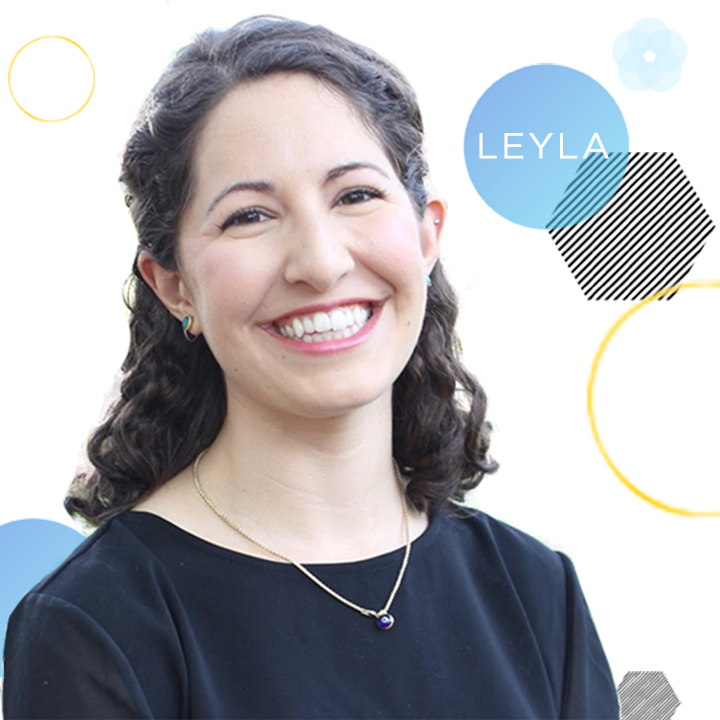 Leyla Mocan
Leyla Mocan (she/hers) currently works at the College Board, where she is Chief of Staff in the College and Career Access Division. Previously Leyla held a range of roles focused on economic policy, working at the Federal Reserve Board, for the Obama Administration in the U.S. Department of the Treasury and the Joint Economic Committee in Congress. She earned her Masters in Public Affairs from Princeton University and her B.S. in economics with a concentration in statistics and minor in mathematics from the Wharton School of Business at the University of Pennsylvania Wharton School.
Desvan Moody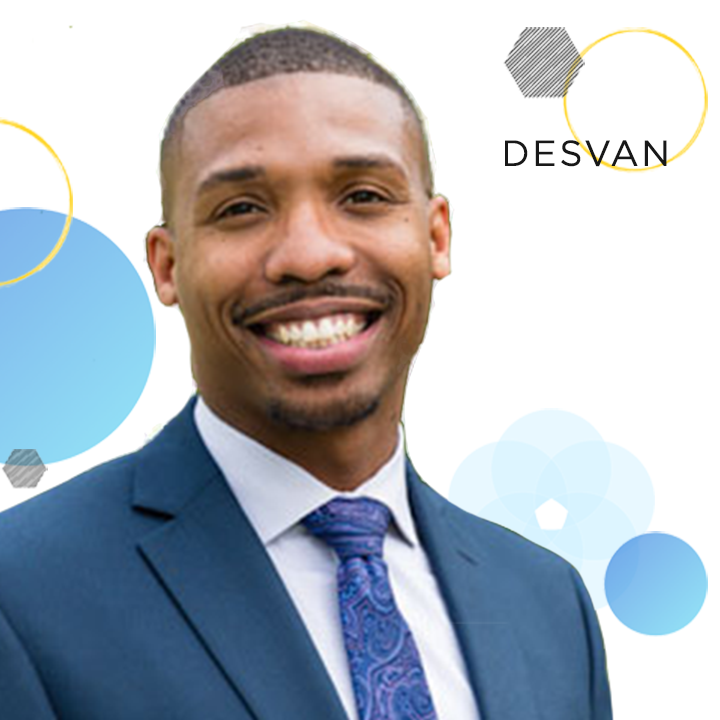 Desvan Moody
Desvan L. Moody is a Baltimore native and alumnus of Baltimore City College with over four years of college admissions experience. Desvan recently joined the KIPP Baltimore team where he serves as the Manager of College Persistence. Desvan earned his undergraduate degree from York College of Pennsylvania in 2012 and is currently a graduate student at Loyola University Maryland in the School Counseling program. Most currently, Desvan's research has focused on increasing the social and emotional skills of English Language Learners in Baltimore through a summer youth program; a collaboration with the Esperanza Center of Baltimore and Loyola University Maryland. In his free time, he enjoys biking, gardening, reading, and studying African American history.
Raquel Ortiz

Raquel Ortiz
Raquel is a native Washingtonian. She is a proud first-generation Latina from an immigrant family. As an educator, community, and international development worker, she has experience working with diverse groups, specifically youth and families furthest from opportunity. Raquel believes education is a catalyst for social change and justice and works hard to help find solutions to remove the barriers these students and families face. Raquel has worked in the field of Education and Development for over 20 years. Raquel holds a BA in Humanities with a focus on Secondary Education and Latin American History from the University of Maryland, and an MA in Sustainable Development and International Policy and Management, from the SIT Graduate Institute.
Adeola Panox

Adeola Panox
Adeola Panox (she/her/hers) is an Assistant Principal at Rocketship RISE Academy in SE DC. She is the proud daughter of Nigerian immigrant parents who value education above all else and gave her the immense privilege of attending great schools that not only taught her content but also values such as empathy and responsibility. She has tried to carry those traits with her through her professional career as a corps member with City Year and Teach for America and teaching and coaching in public and charter schools across the country for almost a decade. Outside of school, Adeola enjoys theater and concerts and being perennially disappointed by the Washington Wizards. She earned a B.A. in Ethics, History and Public Policy from Carnegie Mellon University and an M.Ed in Education Policy and Leadership from American University.
Jess Pasionek

Jess Pasionek
Jess Pasionek (she/her/hers) grew up in a large, loud and loving Italian family in the beautiful state of Michigan. At the heart of her personal and professional endeavors is an unwavering commitment to a life of unlearning and relearning – striving to dismantle white supremacy and create an antiracist world. A white, cisgender, straight woman, Jess believes our liberation is bound together. She attended Xavier University in Cincinnati earning degrees in Social Work and Gender and Diversity Studies. Jess also earned her Master's in Education as a Teach for America corps member. She then stepped away from American education to teach in Tanzania. Once back stateside, she worked for a decade both as a teacher and principal in Brooklyn before transitioning to her current role as an educational consultant. Jess aims to support school leaders in creating work spaces where all members feel valued and can bring their authentic selves to work. She is a proud member of Delta Sigma Theta Sorority, Incorporated. Traveling to different countries, chocolate molten cake and college basketball bring Jess great joy.
Ashlynn Polanco

Ashlynn Polanco
With over 5 years of working in the social impact space, Ashlynn brings her voice centered by her identities as a Latinx, child of immigrants, mid-career, woman professional to her work in program management, strategic planning, adult learning and professional development, and participant experience. Ashlynn oversees ProInspire's individual strategy work including all open-enrollment programs such as ProInspire Leadership Institute, Coaching for Impact, and Racial Equity Leadership Institute. Ashlynn supports and manages ProInspire's portfolio of foundation sponsored Race Equity Cohort programs.
Lizz Rene

Lizz Rene
Lizz Rene (she/her/hers) identifies as a Black womxn who has has dedicated her work full-time to dismantling oppressive systems and amplifying the stories of the Black Community. She has worked for District of Columbia Public Schools (DCPS) since 2017. In her current role as Manager of Equity Strategy and Programming, she provides strategic support and professional development around race, equity, diversity and inclusion. Supporting more than 115 schools in the District, Lizz addresses racial equity using an empathy-first approach grounded in human-centered design. She is a graduate of the University of Georgia and LUMA-certified Human Centered Design Practitioner.
Betsy Romero

Betsy Romero
Betsy C Romero (she/her/hers)is a Black woman, first-generation Honduran-American, born in the Bronx, New York but has been living in DC for more than 11+ years. She is a community activist, educator, lifelong learner, plant mom, and advocate for social justice issues in her community and beyond. She currently serves as the Director of Equity & Engagement at Lee Montessori Public Charter Schools here in Washington, DC. As a first generation College Graduate, Betsy understands the importance and the power education has in the transformation of an individual and a community. She has served the DC community in the educational field for 10+ years in both DCPS and DCPCS. Betsy is committed to Anti-Bias, Anti-Racism education, Equity, and Family Engagement; she is in a lifetime journey of unlearning and relearning. Betsy currently serves on the Board of the DC Language Immersion Project, a non-profit committed to equitably increasing opportunity and strengthening communities through multilingual education. She enjoys drinking lots of coffee, reading children's books, and taking care of her plants.
Darleen Underwood

Darleen Underwood
Darleen E. Underwood (she/her/hers) is a Brooklyn native and proud Black American woman. She is a first generation college graduate of the University of Richmond with a Bachelor's degree in Sociology. A storyteller at heart, Darleen has utilized this gift to serve Black and Brown communities through mentorship, volunteer work, and more recently, critical culture work in efforts to improve stakeholder engagement and satisfaction. Darleen's ten year and ongoing life-long commitment to social justice is fueled by her passion to do the work in a way that serves the communities she comes from; helping people to thrive in their identity. Her current work lies in empowering Black and communities of color to find the authentic voice that represents their true selves. Darleen is a lover of the performing arts, tea, and double-dutch jump rope.
Briana Wallington

Briana Wallington
Bri Wallington Ferguson (she/her/hers) is a Black woman who believes in the importance of building relationships that will form communities that will inspire each other towards being their best selves. Born and raised in DC, she learned the importance of community and how important it is to love and protect the people who are apart of your community. She believes in dedicating time to build community through relationships is important because that is how we take the time to learn from and to appreciate the diversity of those around us. While receiving her BBA from Temple University and M.Ed from Johns Hopkins , she learned how impactful it was to learn from and to build diverse communities.
Through her work as a TFA Corp Member and a PGCPS math teacher, she found the value of building relationships and forming communities that create a safe space for affirming identities, learning diverse perspectives, and ensuring equity is in place for students, families, and school staff to receive the resources they deserve. As an educator, she believes in advocacy and fighting for the change that is necessary for everyone to thrive and to be unapologetically great in who they are and what they stand for. She will continue to build communities where diversity, inclusion, and equity is a priority as a leader at Higher Achievement. She also loves to read, spend time with family and friends, listen to music, cook with my husband, and binge watch TV shows.
Levon Williams

Levon Williams
Levon Williams (He/Him) is a nonprofit manager focused on diversity, equity, accessibility, and inclusion (DEAI) in the arts and culture sphere. An Indiana native, Levon is relatively new to the DC area. He currently works with the American Alliance of Museums as a Senior DEAI Fellow and at the Phillips Collection as Program Manager of DEAI. In both roles, he seeks to transform organizations by creating more equitable and inclusive practices, and community centered spaces. Levon's personal passions include social justice, music, comedy, and culture. Critical Thinking + Self reflection + Laughter are his jams.
Octavia Wolf

Octavia Wolf
Octavia Wolf (she/her) is a seventh year teacher at West Education Campus in Washington, D.C. Throughout her time as a teacher leader within the building, she has made culturally responsive teaching a cornerstone of her instruction. As a Black woman, she believes in the importance of anti-racist pedagogy, social reform, and amplifying the voices of the marginalized.